April Keto Krate box was the best yet! Have you tried Keto Krate's snack box subscription? Receive 6-8 low carb keto snacks at your door.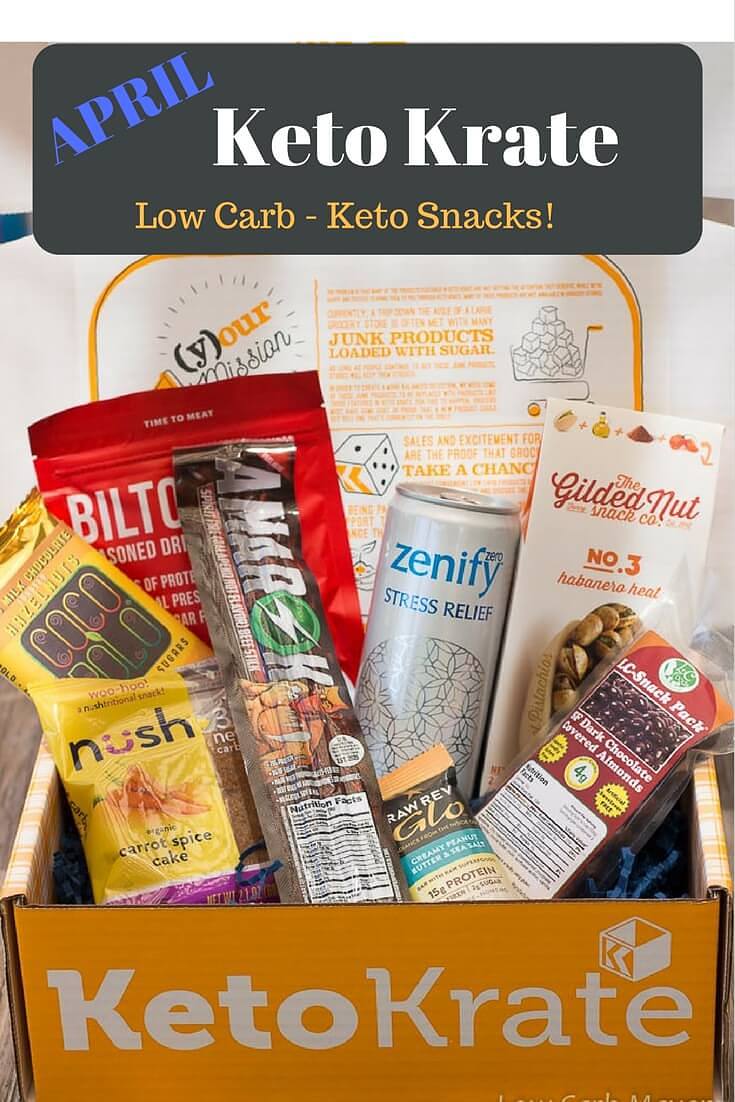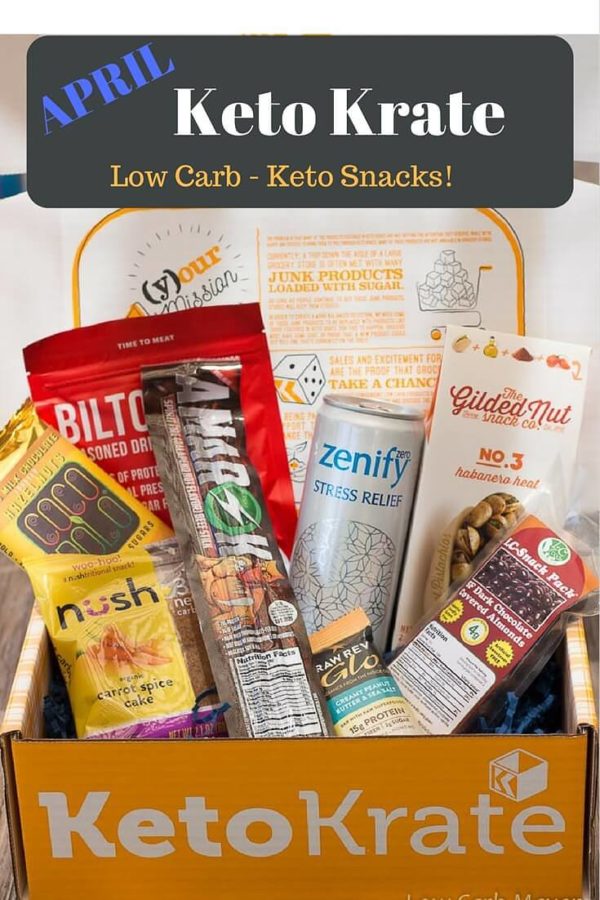 (This post contains affiliate links. Purchasing through a link will result in my earning a small commission at no additional cost to you.)
WOW!
Really, WOW! The products in my April Keto Krate were phenomenal. I received 8 products – Yes, eight! I loved each one. I can't wait to tell you what they were. But, first….
Subscribe to Keto Krate and receive 6-8 low carb keto approved snacks (& $20 of discount codes) delivered right to your door. The products range from savory or sweet snacks, protein bars, breakfast items, drinks, dressings, flavorings and sweet treats. None of the products contain maltitol – your blood sugar and tummy will thank you for that one!
Keto Krate searches out the best low carb keto snacks to be able to offer a nice variety of quality products. Then, they package them up and send them to your front door. This supports start up and small business by spreading the word of new products. I like that.
If you are a bonafied new product junkie or are searching for new keto snacks, then this is for you! It's a great way to sample new low carb and keto products. Keto Krate is the perfect gift for those people in your life who are hard to buy for – we all have someone like that in our families, right?
April's Products: (refer to photo above)
Nush Carrot Spice Cake – This was a great snack cake made from flax. It was moist, dense and satisfying. It was sweet, but not overly. I liked it very much. (3 net carbs)
Coco Polo Hazelnut Chocolate Bar – Wow. I love chocolate and hazelnut. This stevia sweetened chocolate did not disappoint. The chocolate was sweet without the big cooling effect found in some sugar-free chocolates. I would absolutely buy this and the other flavors, too. (4 net carbs per serving/ 2 servings per bar)
The Gilded Nut: Habanero Heat Pistachios – You need these in your life! Because much of the seasoning is on the outer shell, the pistachios are perfectly seasoned and not very spicy. I LOVED these and will send as gifts. Check out all of their flavors.
Brooklyn Biltong Beef Jerky, Original – I love beef jerky and Brooklin Biltong has great beef jerky. Instead of drying the beef with heat, they air -dry, which results in a moist and flavorful product.
Raw Rev Glow Creamy Peanut Butter & Sea Salt Bar – I like protein bars but many contain a lot of sugar and/or additives. This bar had a substantial mouth-feel and tasted like peanut butter. It was not chalky or gritty. It was great. (11 g protein, 2 g sugar)
LC Foods Dark Chocolate Covered Almonds – I loved these chocolate covered almonds. They were thickly covered in a dark chocolate that melted nicely and had a great mouth-feel. My kids thought they were amazing. For $2, this was a great size to share. (4 NC per serving)
Super Powered Nutrition AMAROK Grass-fed Beef Sticks – My dad always got us beef sticks on car trips so I was happy to see something that resembled the old Slim Jims of yesteryear. These grass-fed beef sticks were AWESOME and just a tiny bit spicy. I will buy them and keep them for travel snacks.
Zenify Drinks Zero Sugar Stress Relief Drink – Missing the occasional soda, I was super happy to try this drink. It was delicious! (10 calories, 1 carb)
————————
Again, I am proud to be receiving and reviewing this product and the variety of products I have the chance to try each month.
Order your keto krate here: SIGN UP FOR KETO KRATE