These amazing Low Carb Keto Wraps are made with pork rinds have less than 1 carb each. Pliable and neutral in flavor, they require no specialty ingredients and are gluten free. The Perfect ketogenic wrap!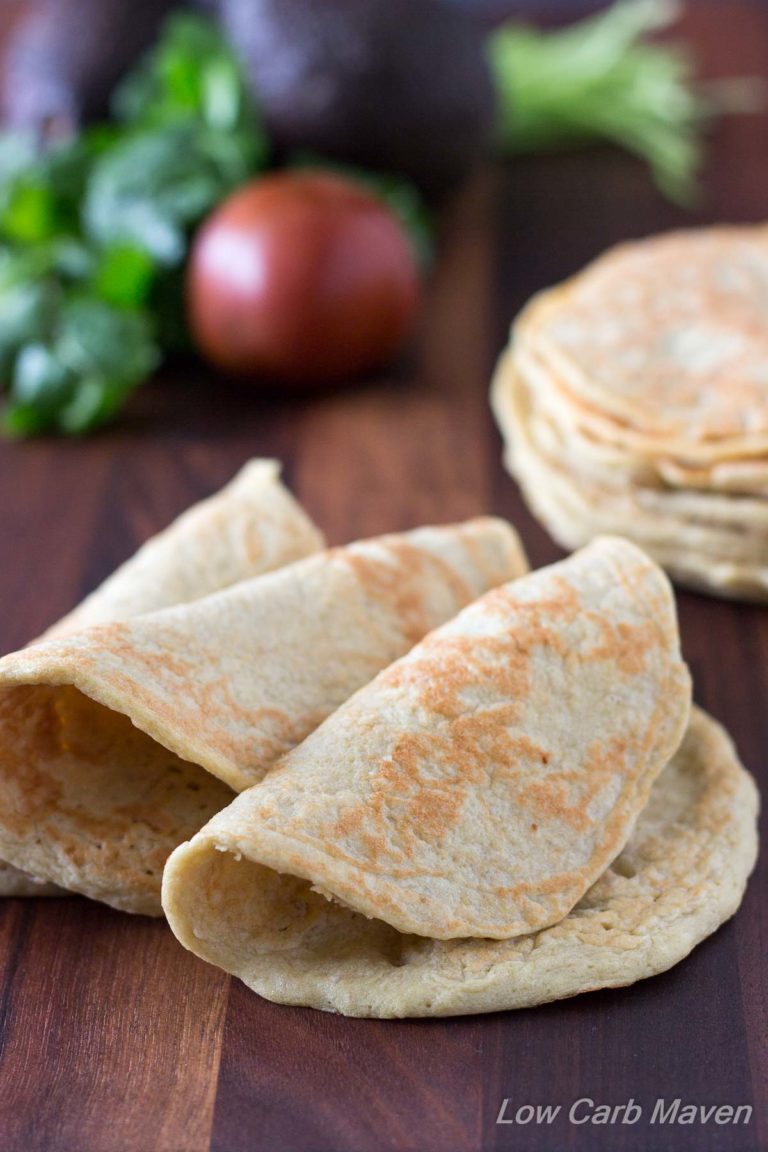 I've been on a quest to find the best gluten-free low carb tortilla and low carb wrap recipes. It started last year when I developed a recipe for 1 carb tortillas using glucomannon (Konjac) powder and coconut flour. They're great to use in enchiladas or to fry as chalupa or tostada shells.
Then, I posted one of my favorite recipes for low carb tortillas and wraps from Maria Emmerich of Maria Mind Body Health. Her recipe, which uses almond flour and psyllium powder, was my go-to for low carb wraps or soft tacos. Next, I shared a fantastic recipe for low carb zucchini tortillas. This recipe has changed lives – for real. All of these recipes are great low carb options, but they require specialty ingredients.
BUT THIS RECIPE!!!!
This recipe is made from regular ingredients you can find in any store. And it is completely AHhhhh-mazing.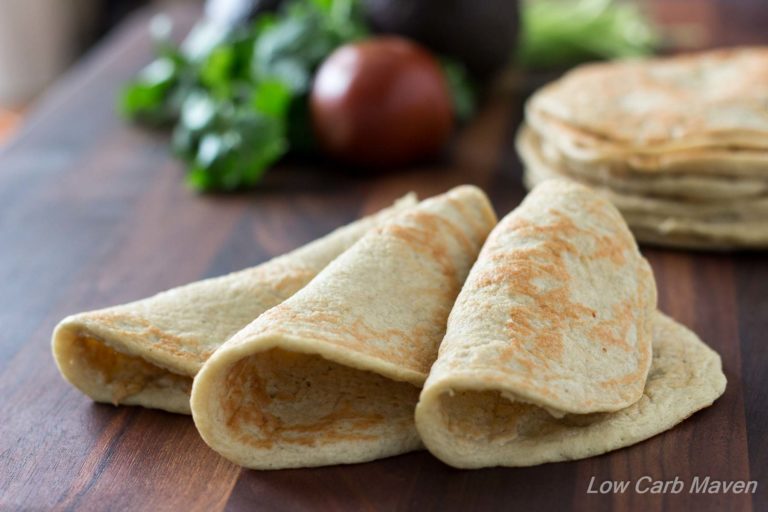 These low carb keto wraps are super easy to prepare. And like I said, are made from regular ingredients, but what's even better is the fact that they are less than one per each. Yes, really. And two wraps top out at 1.6 carbs!
I know. You're thinking I'm pulling your leg. Right now you're probably thinking that this is just too good to be true. I bet you think I am full of baloney; that I just looked you straight in the eye and told you a "whopper". Nope. These low carb wraps are 100% legit. And, I am so excited!
How can this be? How can these low carb wraps be almost zero carb? They are made with pork rinds. Yep. Chicharones. And pork rinds are a great low carb source of protein, contain heart healthy fats, and are full of gelatin. Gelatin, as you may know, is good for you. Read more about the benefits of gelatin in this great article on Chris Kressler's site.
Because this recipe uses no nuts, it's perfect for the Induction Phase and all phases of the Atkins Diet.
This recipe was inspired by all of the recipes for low carb pork rind pancakes and this recipe for pork rind tortillas from The Primative Palate. Go check out their great Paleo site. I like using these wraps for keto breakfast tacos, with chicken fajitas, green chile stew and traditional beef fajitas.
(This post may contain affiliate links.)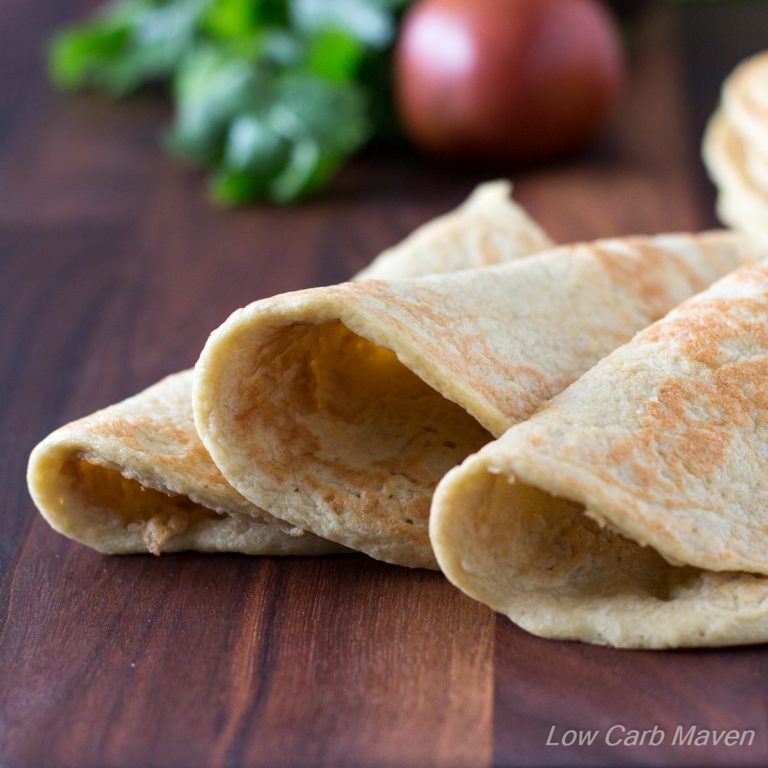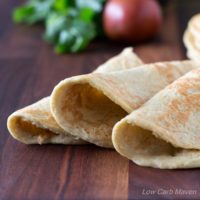 Low Carb Keto Wraps
These amazing low carb, wraps have trace carbs per each and 1 net carb for two. They are gluten-free, and require no specialty ingredients. The Perfect ketogenic wrap!
Print
Pin
Ingredients
4

ounces

plain pork rinds, crushed

(113 g)

1/8

teaspoon

baking soda

1/4

teaspoon

salt

optional

4

ounces

cream cheese, softened

(113 g)

6

large

eggs*** (cold)

see note

1/2

cup

water

(113 ml/ 118 g)
Instructions
Food Processor Method:

Place the pork rinds in a food processor and process until they become a fine powder. Add the baking soda and salt and give it a little pulse to mix. Add the eggs and cheese and process until smooth and thick. Add the water and blend until all of the ingredients are completely incorporated. Pour into a bowl and let sit for 5-10 minutes until the batter thickens to the consistency of cream of wheat. (Thin batter as needed.)

Hand Mixer Method:

Put the pork rinds into a large zip-loc bag and crush in batches with a rolling pin or the smooth side of a meat mallet. They should be completely pulverized into a powder. Place the pulverized pork rinds into a medium bowl and stir in the baking soda and salt. In a smaller bowl, blend the cream cheese with one egg until combined and smooth. Add another egg and mix. Add the egg and cheese mixture to the pork rind crumbs and add the rest of the eggs. Blend with the hand mixer until smooth. Add the water and mix until thoroughly combined. Let the batter sit for 5-10 minutes until the batter thickens to the consistency of cream of wheat. (Thin batter as needed.)
Cooking
Preheat a pancake griddle over medium heat. When hot, oil the griddle and then gently wipe-off the excess with a paper towel or spray with cooking spray.

Using a 1/4 cup measure, pour the batter onto the skillet and spread into a 5 inch circle with the back of a spoon. Make it as thin as possible. I dip my spoon in water to prevent it from sticking to the batter. Having a cup of water nearby helps. Cook like you would a pancake. NOTE: You will need to thin the batter as it sits. Add 1 tbsp at a time as needed.
Storing
Keep in the refrigerator up to a week or freeze up to 3 months with a piece of waxed paper between each wrap. 

Each wrap is 0.8 carbs or 1.6 carbs for 2 wraps. (There is no fiber in the recipe.)
Notes
Make sure to spread the batter with a wet spoon or you will end up with a thick pancake that will not serve well as a wrap. Thin the batter with a little more water if you notice it getting a little too thick to spread easily.
**** I'm often asked how these wraps taste. I use plain pork rinds and think these wraps are very neutral in taste.
***If this recipe is too eggy for you the first time you make it, try using 3 whole eggs, 3 egg whites and 3 tablespoons of oil.
No, this recipe can not be made without the pork rinds. That's like making a bread recipe and then removing the flour. Try these alternative wraps, zucchini tortillas, and this savory crepe recipe.
Nutrition Facts
Low Carb Keto Wraps
Amount Per Serving
Calories 124
Calories from Fat 79
% Daily Value*
Fat 8.8g14%
Cholesterol 128mg43%
Sodium 286mg12%
Carbohydrates 0.8g0%
Protein 9.1g18%
* Percent Daily Values are based on a 2000 calorie diet.
Nutrition
Calories:
124
kcal
|
Carbohydrates:
0.8
g
|
Protein:
9.1
g
|
Fat:
8.8
g
|
Saturated Fat:
4
g
|
Monounsaturated Fat:
2
g
|
Cholesterol:
128
mg
|
Sodium:
286
mg
|
Sugar:
0.5
g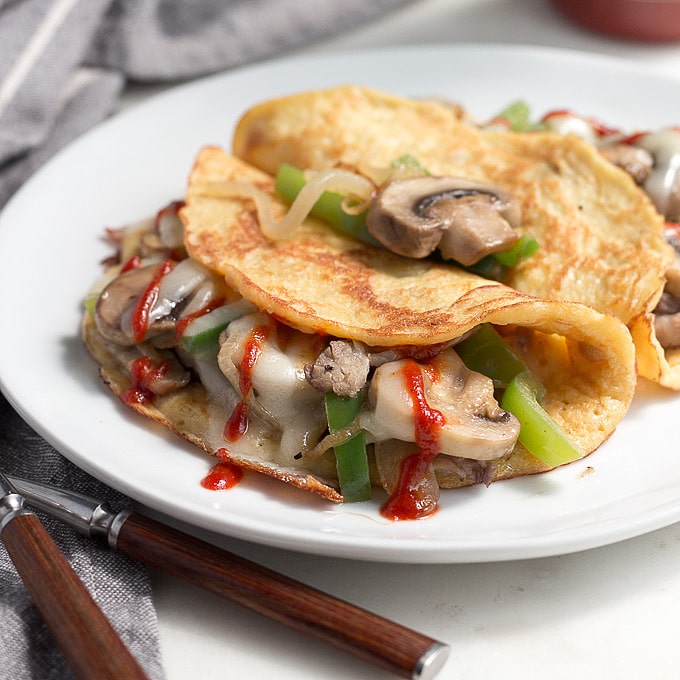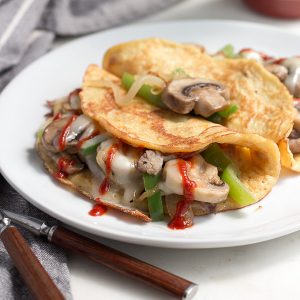 Philly Cheese Steak Wraps (low carb, keto)