Made from seeds and nuts, these low carb chewy granola bars are not only gluten and grain-free, they're a healthy grab-and-go snack.  They're so much like the real thing – you won't believe it!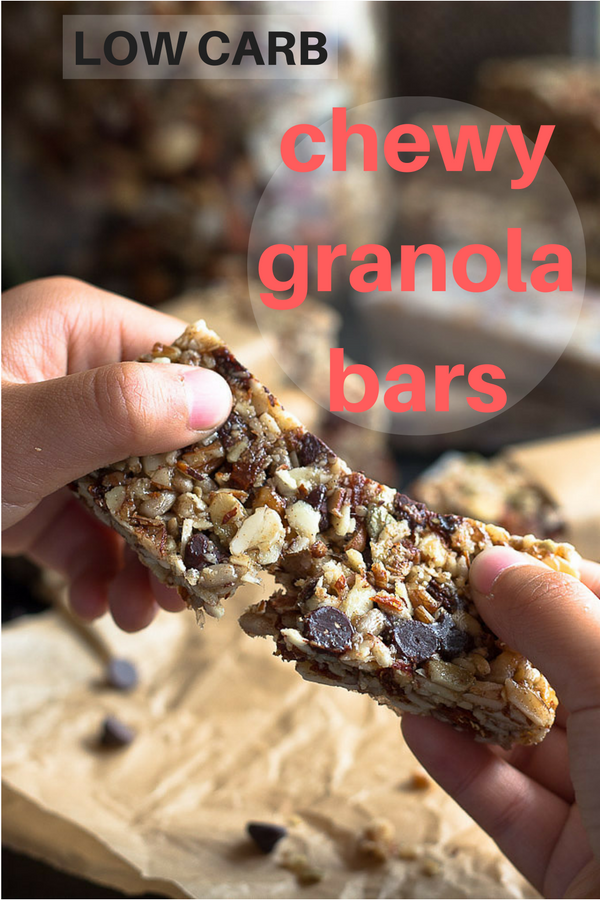 [Before I begin, I have to thank my son who served as hand model for this post. I usually don't share my family or much of our home-life on the blog, but "mr. helpful" needs to be acknowledged. :)]
——————————————
My kids have been back to school for almost 2 months now. It's been an exciting school year because my daughter started middle school. And, thanks to the school snack-shack, her options for available school snacks have broadened considerably. Even so, I continue to send her to school with homemade goodies like low carb Cheez-it's or these chewy granola bars. I can't help but feel that tucking a wholesome treat from home into her lunch bag let's her know I love her.
If you have kids, then you've undoubtedly bought chewy granola bars sometime in the past either as a school lunch treat or as a quick on-the-go snack. I know my kids love them, and so do I. I can't tell you how many of the low carb chewy granola Atkins bars I've eaten in the last seven years – more than I care to admit. They are nice in a pinch, but I try to keep the additives to a minimum and I like to bake.
I've been making granola bars for the kids in some form or another for years. I used to prepare them with gluten-free oats, but now I just make them with nuts and seeds for a low carb and grain free option. Honestly, you can hardly tell the difference between this sugar-free version and those fruit and nut bars you see in the stores.
To keep these granola bars as low in carbs, I added goji berries, which are high in antioxidants, but I often add dried cranberries or blueberries for the kids. Chocolate chips are a must for my kids and I like to use Lili's sugar-free chocolate chips. Any mix of nuts and seeds can be used for this recipe, but don't skip the sliced almonds – they're what give these chewy granola bars that authentic granola-bar look.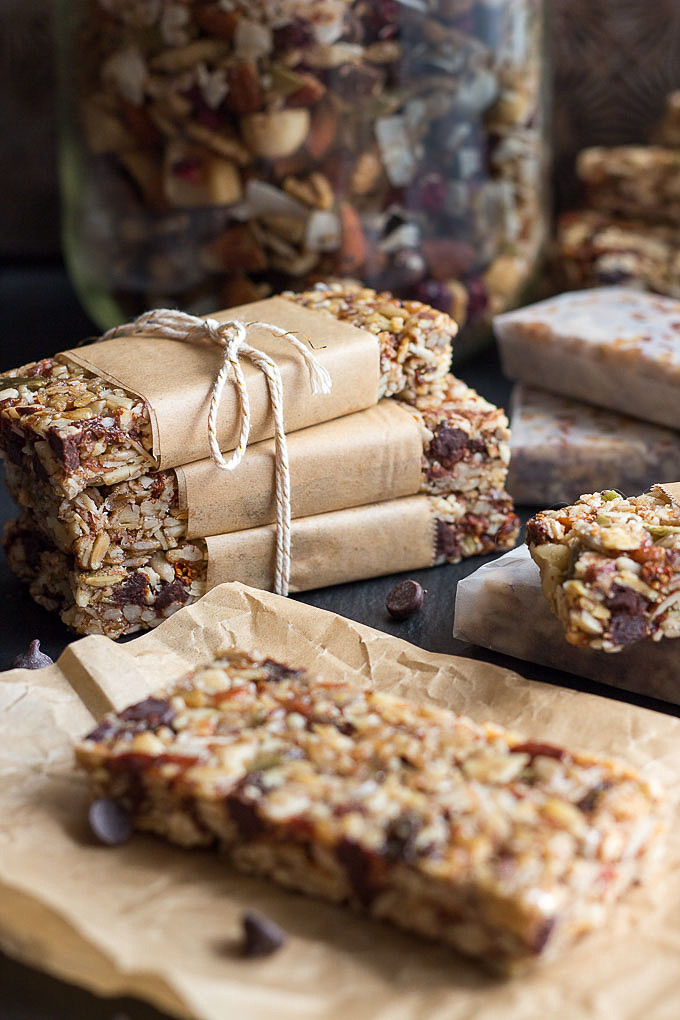 I also highly recommend using a viscous sugar-free syrup like the Sukrin Fiber Syrup Clear (or gold), VitaFiber Syrup or xylitol syrup. You can try using sugar-free pancake syrup if you'd like, but I try to avoid heating aspartame  as it can break down and/or react with other recipe related compounds. 
This is the second low carb granola bar I've shared on LCM, the first being Kitchen Sink Bars which use puffed rice as the base ingredient. Wanting to provide a lower carb and grain-free option for more readers to enjoy, it was time to share this recipe. These bars are very lightly sweetened so add more powdered sweetener per your taste. I think you'll agree that this recipe is as close as you'll get to the real thing.
NOTE: I like to buy my almonds, walnuts and pecans from Costco for the best price. I commonly buy other nuts from Nuts.com – not only for the great variety they offer but for their great quality. I also like to buy some of my nuts from Trader Joe's.
Each Low Carb Chewy Granola Bar is 6 net carbs each.

Omit fruit for 4 net carbs bars.
[This post and recipe may contain affiliate links.]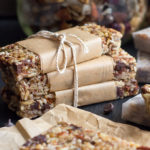 Low Carb Chewy Granola Bars
Made with nuts and seeds, these low carb chewy granola bars are not only gluten and grain-free, they're a healthy grab-and-go snack. They're so much like the real thing - you won't believe it!
Ingredients
2

cups

(200 g) sliced almonds

1/2

cup

(55 g) walnuts

1/2

cup

(55 g) pecans

1/3

cup

(40 g) goji berries

(or your favorite no-sugar added fruit)

1/3

cup

(40 g) raw pumpkin seeds

1/3

cup

(45 g) sunflower seeds

1/4

cup

(40 g) golden flax meal

1/4

cup

(65 g) Lily's SF Chocolate Chips

1

teaspoon

cinnamon

1/2

teaspoon

ground ginger

2

tablespoons

(28 g) melted butter

3

tablespoons

powdered sweetener like Sukrin Icing or Swerve Confectioners

1/3

cup

Sukrin Fiber Syrup Clear (or Gold

or VitaFiber or SF pancake syrup), 89 ml
Instructions
Preheat the oven to 350 and place the rack to the middle position. Line a 13 x 9 inch baking dish or pan with parchment paper (or foil) by spraying the dish, lining the parchment up the sides and being careful to fit into the corners, and then spraying the parchment.

Place the sliced almonds into a food processor (or chop by hand) and process until they resemble oats. Place the chopped almonds into a medium bowl. Chop the pecans and walnuts into smaller pieces - I use a chef's knife. Add them to the almonds. Add the gogi berries, pumpkins seeds, sunflower seeds, golden flax meal, chocolate chips, cinnamon, ginger and powdered sweetener into the bowl. Mix thoroughly. Pour the butter over and mix again. Add the fiber syrup and mix one more time.

Pour the chewy granola bar mixture into the prepared baking dish and distribute as evenly as possible. Lay a piece of waxed paper on top of the mixture and using a flat bottomed glass, firmly press the granola mixture into the dish.

Bake for 15-20 minutes or until it just begin to brown around the edges. Let rest in the dish for 10 minutes. Remove to a cooling rack by using the parchment to lift it out. Let it cool completely until cutting into 16 bars with a large, sharp chef's knife. Apply pressure in a downward motion and resist sawing back and forth. Store in an airtight container.
Recipe Notes
Total carbs are 13 and net carbs are 6 per bar.
Omitting the fruit makes these bars 11 total carbs and 4 net carbs each.
Nutrition Facts
Low Carb Chewy Granola Bars
Amount Per Serving
Calories 205
Calories from Fat 153
% Daily Value*
Total Fat 17g 26%
Total Carbohydrates 13g 4%
Protein 6g 12%
* Percent Daily Values are based on a 2000 calorie diet.
Signup for my Newsletter
Subscribe to get our recipies by email.