Keto chocolate cranberry relish muffins are light in texture and chocolaty with a mild bite of acidity from leftover cranberry relish. A delicious twist on low carb chocolate muffins.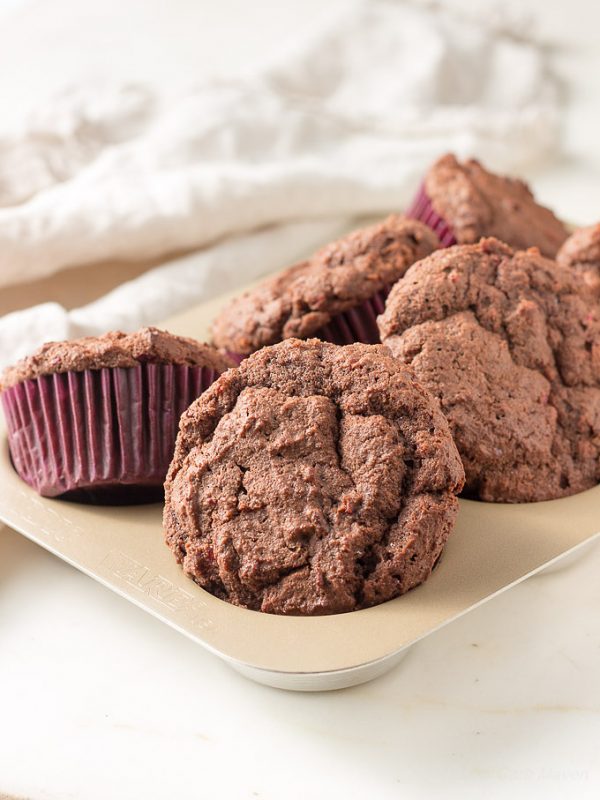 Every year I make low carb cranberry sauce or low carb cranberry relish for Thanksgiving and Christmas. And every year, after an obligatory meal or two of leftovers, I'm left with a small plastic container of leftover cranberry relish in the fridge. This container gets moved around the fridge until it eventually ends up in the back, tucked behind jars of condiments – completely forgotten, and is eventually thrown out.
The last few years I've been determined to use up the leftover cranberry sauce instead of having it go to waste because it is, after all, delicious! Putting it on turkey coldcut sandwiches is an obvious way to use up leftover cranberry sauce or relish, but I have also enjoyed it on salads and low carb turkey chalupas and wraps. Serving cranberry relish or sauce along side roast pork loin is sublime as is eating it with roast chicken. Both deserve two thumbs up. And don't laugh, my husband put a combination of leftover cranberry relish and dill pickle relish on his lettuce wrapped hot dog one year! He said it was great.
…