Packed with spinach and kale, this low carb green omelette is perfect for a healthy and easy brunch or lunch. A blend of tasty cheeses makes it especially delicious.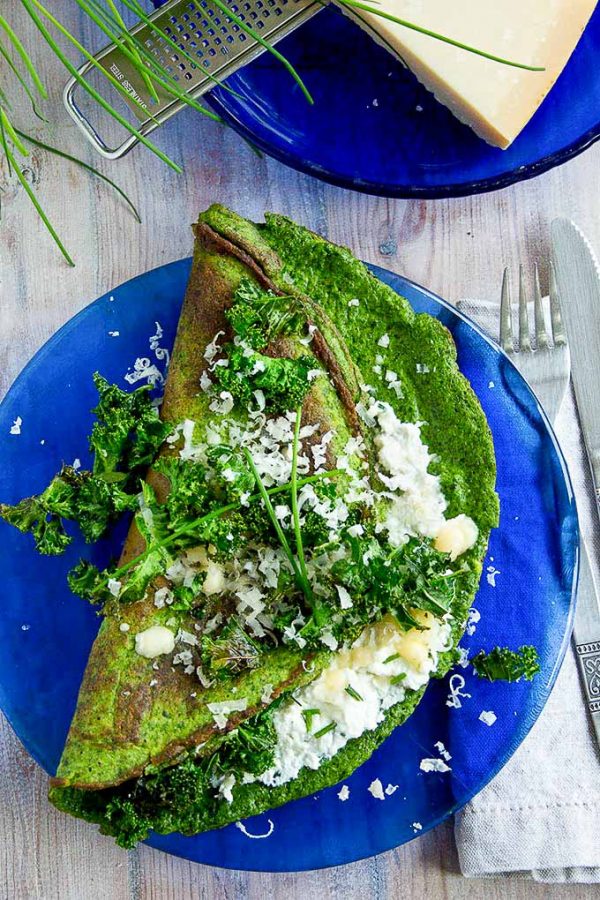 [I'd like to sincerely thank Katrin from Low Carb Londoner for contributing this wonderful content for me while I was in the in the hospital with family. Katrin develops deliciously easy low carb recipes in her home kitchen in London.]
—————————
I love eggs. My whole family loves eggs. We eat them boiled, fried, poached, scrambled – mostly for breakfast, sometimes for lunch. And yes, if eggs have not made an appearance by 6 pm, we might well have a dinner involving an egg or two as well. I now have 4 dozens on repeat order from the supermarket each week because we always used to run out.
Eggs are a great choice if you're eating low carb, and there are countless delicious ways you can prepare them. You can never go wrong with slowly scrambled eggs (mix in half a teaspoon of mustard before, or a spoon of chopped herbs such as parsley) that are so moreishly creamy. Another purist's dream is a perfectly fried egg in browned butter, with crispy edges and a soft yolk. This is lick-the-plate territory, when no one is looking.
…